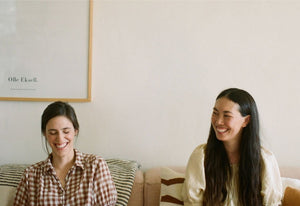 Our Story
Morrow Soft Goods was founded in 2016 by friends
Stephanie Cleary and Michelle Toney. Both with backgrounds in design, Stephanie in fashion and Michelle in architecture, they were passionate about building a brand that creates beautiful products while simultaneously focusing on sustainability.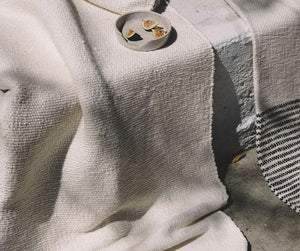 True to Our Aesthetic
We're very mindful in our design process not to get caught up in trends and instead value authenticity and staying true to our aesthetic. Nature is our strongest source of inspiration, we gravitate towards earth tones, natural materials, and organic patterns. Our product offerings will always only include items that we love, never straying from what we believe in.
Patient Production
Our products are created with conscious awareness at every step. We choose our suppliers carefully, opting to only work with companies who are committed to caring for their employees and our precious planet. This ensures that each individual involved in the process of creating our goods is treated fairly and respectfully, works in a safe environment, and makes a fair wage. Valuing patient production means we prioritize sustainability, fair treatment of workers, and quality products over fast production and quick turn out of products. Each piece we sell is created with the utmost care and consideration.
Conscious Consumption
Our approach to designing and creating products considers the longevity of the product. We strive to design timeless pieces that will remain a part of your home even as seasons pass. We keep our product offering small to promote conscious consumption and eliminate excess. The materials we choose are high quality and meant to last.