Waking Up With: Sisilia Piring
Sisilia Piring is a New Mexico based photographer and content creator. Her colorful, quirky style is the perfect mix of fun trend pieces and beautiful vintage finds. We love learning about her photography, vintage finds, holistic health experiences, and day to day life on her vlog. Here, we discuss moving from California to New Mexico, her year-long road trip, and finding inspiration through rest.
Hello! First off, tell us a little about yourself and what you've been up to lately.
Hi! My name is Sisilia Piring! I'm a fashion photographer and content creator. I just recently moved to New Mexico from Joshua Tree, California. It's been quite hectic since my move back in October. I feel really grateful that work has been abundant and I've been working on back to back projects, but as an introvert I'm really looking forward to quieter days offline and recouping physically and mentally.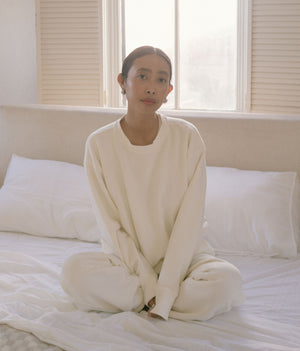 "I've always loved photography and documenting my life in every capacity."
What is your morning ritual?
My morning ritual involves cuddles from my daughter, my favorite ginger and peach black tea with cream and sugar or an espresso depending what the day calls for. A sound bath with my large crystal bowl and my skincare routine which right now involves the LED mask from Dr. Dennis Gross that makes me look like Iron Man when I have it on, but I swear it makes my skin plump and glowy! It's a shared ritual that I have with my husband and we're loving having a shared skincare routine. Afterwards my husband and I usually sit together in the living room and go through our work schedule and what appointments we have for the day if any.
You are a photographer and content creator (we are such fans of your work and style!) How did you get started on this path?
Thank you so much! I've always loved photography and documenting my life in every capacity. I'd photograph my friends and have them dress up and come up with editorials to shoot with them. When I got pregnant photography went from a hobby to something I pursued more seriously. I put myself out there on the internet and one day a makeup artist that was signed with Ford Models emailed me and I did my first ever test shoot with 2 of their models. From there it just snowballed. I put my work on instagram and was approached by brands to shoot content for them and then it evolved to me styling and wearing their products and doing more work that way.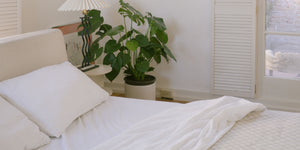 What about your work continues to inspire you?
I love connecting with people and building relationships/community. I've always loved that aspect.
In 2019, you and your family took a year-long, cross-country road trip. What were some highlights from that experience? Did you have any major insights or perspective shifts?
We sold about 80% of everything we owned before taking that trip and we realized that life was better with less. Honestly, we didn't need anything else in our trip except for our camper to sleep in since most of the time we were out exploring different cities and states. There were so many highlights from that experience. My kids got to spend their birthdays in different parts of the country which was their greatest highlight. My son spent his birthday in New Orleans during mardi gras (don't worry, it was a very G rated version). He loved the music and small parade of people with their musical instruments that constantly ran through the streets. My daughter spent her birthday in Charleston eating the best food. They also were doing homeschool during this time and we got to visit the historical sites in their textbook and see and explore them in person instead of learning about it from a book. We saw the Liberty Bell in Philadelphia, walked around Washington D.C. and visited the White House and different monuments. Then explored the historical sites of Boston.
You have two (adorable) children, what has been your favorite part of being a mother?
Thank you! My favorite part of being a mother is witnessing their growth and creating space for them. I love seeing them experience something for the first time. Seeing them explore the world and different environments. I love witnessing their thought process and what makes them unique. They're so different from one another, yet they have the same parents and live in the same environment and that's fascinating to observe.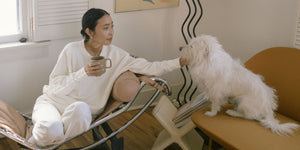 You recently moved from Joshua Tree to New Mexico, can you tell us about your decision to move and how the transition has been?
The transition has been easy for the most part. I think because we lived in Joshua Tree and it was further away from our family back in Los Angeles so we weren't seeing much of them already so moving a few states away wasn't a big change. Also, there wasn't a lot to do in Joshua Tree so we got used to doing things more slowly. When we grocery shopped, we had to drive out to Palm Springs an hour away. This time around we live about 6 minutes away from Wholefoods so it feels like we upgraded with this move in that aspect because it's minutes away from just about everything we do day-to-day. The convenience factor is what we've been loving.
What are some of your favorite things about living in New Mexico?
Being in a desert, but actually having 4 seasons. And the things I mentioned earlier— convenience being minutes away from everything we do day-to-day and not having an hour commute for groceries.
"How I express myself is through fashion and I love a colorful outfit, but when I get home I prefer white walls and bring pops of color through accessories like a vase or print."
Can you tell us a little bit about your new home and your approach to decorating?
We live in a very old house. I believe it's 139 years old. Our neighborhood is historic and has a real charm to it. There used to be a barn on the property for the horses. It's then been converted into an extra bedroom suite. My approach to decorating is pretty simple. I love clean white walls. It's vanilla, I know. How I express myself is through fashion and I love a colorful outfit, but when I get home I prefer white walls and bring pops of color through accessories like a vase or print. I feel my home exudes that and it feels like my sanctuary. Also about 90% of everything we have in the house is vintage or second hand. My husband and I had a vintage furniture business and everything you see in our home is what we found thrifting or at estate sales. One of our most prized possessions is the original Marcel Bruer cesca chairs we found from the home of an architect. They had the original stickers on them. We were surprised when we found about a dozen of them at his house among Joan Miro prints and a Le Corbusier LC4 Chaise style lounge chair.
Who and what inspires you the most right now?
Right now the feminine energy and rest is inspiring me. I had a session with a shaman recently and she said I had a lot of masculine energy. Constantly doing and go-go-go. Which was accurate. She said to dive more into my feminine energy and get rest, so the next few weeks since my projects have been completed for the year I'm really looking forward to resting and exploring this energy more and without guilt or shaming myself for a nap or the need to constantly be creating content.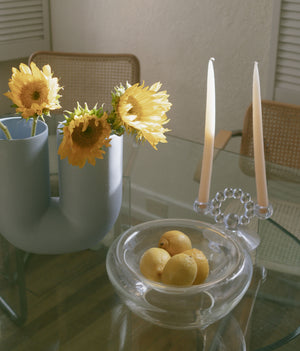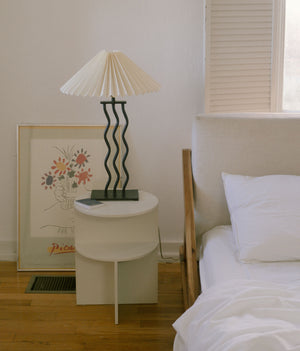 What are you reading / watching / listening to these days?
Every year I like to re-read The Surrender Experiment. I'm watching And Just Like That. The first two episodes were shocking. Did not expect the show to start out like that, but I'm enjoying it. I also love watching vlogs on youtube and have been making vlogs for my youtube channel too, which has been fun to document and edit. I'm listening to a lot of Christmas music. My kids only want to listen to Christmas music right now so there's a lot of that going on everyday! As for podcasts, my husband and I love listening to Spiritually Hungry.
Fill in the blanks:
The coolest place I've ever woken up in is: In our vintage camper next to the bayou in New Orleans.
The best cup of coffee/tea is at: My kitchen table.
A thing about mornings I'll never get sick of is: The slow tempo, the quiet stillness, and hot tea.