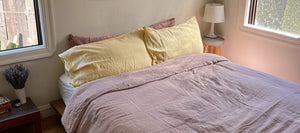 Waking Up With: Courtney Coll
Courtney Coll is a California based model, designer, and creator of the hydrosol and plant medicine brand Potions n' Motions. Here, we discuss working with her family business, Doc's Family Farms, sources of inspiration, and what she does to stay grounded.
Hello! First off, tell us a little about yourself and what you've been up to lately.
Hello!! My name is Courtney and currently I have been splitting my time between Northern California and Los Angeles.  CATCH ME IF YOU CAN!
"I love meeting people and surrounding myself with people that teach me or show me how to do something."
What is your morning ritual?
My morning ritual has been changing a lot recently because I have been moving around so much in my life but coffee in the morning is the first thing! I like the ritual of having my morning drink whether that's coffee or yerba mate depending on the mood I'm in. Then from there I like to get my body moving in the morning so usually I like to get up, have my coffee and then go on a walk or do pilates to start my day!
During the pandemic, you started Potions n' Motions, can you tell us a bit about it and how it came to be? 
Well I guess I would start off this question by saying I`m the biggest hobbyist. Haha! I start a lot of projects and don't finish them usually,  so during Covid, I was really stuck on bringing my idea to life. I learned to use a copper distiller and make my own hydrosols when I was farming in Northern California. Everything I was growing on the land was then turned into either hydrosols and tinctures. So, during the pandemic I had a lot of free time and was growing all the medicinal herbs I was using. It's a fun project for me to escape to and learn more and more about it!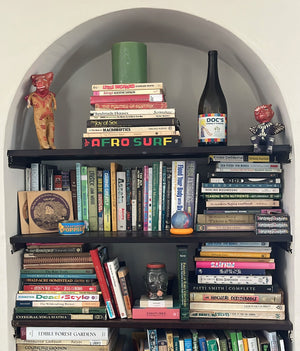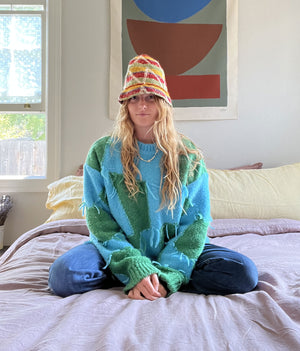 You have also modeled for some amazing designers and brands, how did you get into modeling? What has your experience been like so far?
I was street casted about 7 years ago in Venice Beach and shot my first job with Yelna Yemchuk ( an ammmazing photographer). From that job I got a cover of a magazine which was pretty big and then that's when I started modeling more!! Just like everything else it has its highs and lows, but I am so lucky to have met such amazing people. It's something I never thought I would do but I think that's what makes it fun?! It's funny juggling two completely different worlds of being a farmer and model, but somehow it works and has been a lot of fun!
You spend a lot of time working on your family farm, and you recently launched Doc's Family Farm. Tell us a bit about it and some of the projects you've been working on lately.
Doc`s Family Farms is my family's farm up in northern california which I have been working on creatively. It's fun working with my family on a daily basis and being able to create a space for us all to connect at. The farm we got as a family about 6 years ago and my brothers are up there full time living on the land. So since I am bouncing back and forth a lot to the land, I work most of the time in LA on the creative side of the brand. We work with different artists and artisans to create new things together! We have ceramics coming out that I am very excited about and new merch that has been in the works! So stay tuned on that!!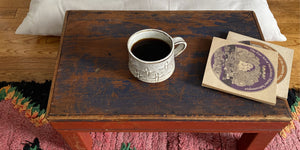 What inspired you to start the clothing collection for Doc's Family Farm? What are some of your favorite pieces at the moment?
I wanted to create gear for the brand so my friends could start repping the farm. First I was making gear for all of the Doc`s team, and once I started making the tee everyone wanted one. From then on we dropped the first merch collection and it did so well that we are coming out with round 2!! My favorite pieces are definitely the naturally dyed pants- i wear mine all the time and they just keep getting better with wear. 
"It's funny juggling two completely different worlds of being a farmer and model, but somehow it works and has been a lot of fun!"
Tell us about your home, what is your approach to decorating?
Mix Match everything ! I love a lot of colors and patterns in my house but also like a farmhouse style. My style is all over the palace when it comes to my house, I like to mix a lot of different styles together. For some reason I love collecting vintage stuff - books, vinyals, tablecloths, bedding , ceramics. The list can go on and on. HA! But I just love a lot of colors around me.
Who or what are some of your biggest inspirations?
I really get inspired by the people that are just true to themselves! I love meeting people and surrounding myself with people that teach me or show me how to do something.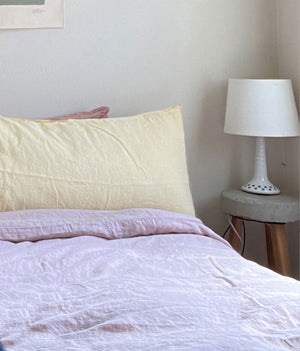 You're working on so many incredible creative projects, what do you do to stay grounded?
GREAT QUESTION!  I am bouncing constantly especially in summer, I am always traveling or on the go. So whenever I get to a new spot I set up my routine and figure out my mornings so that I am grounded. My ideas are always scattered and I keep a notebook with me so that anytime I need to remember to do something I have to cross it off the list! Try it- it works.. haha
Fill in the blanks:
The coolest place I've ever woken up in is: Camping above the clouds. 
The best cup of coffee/tea is at: Goodboybob in LA because the homemade almond milk is the best!
A thing about mornings I'll never get sick of is:  Sunrise!