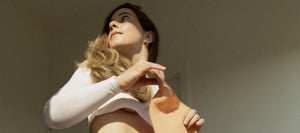 Waking Up With: Chelsea J. O'Leary
Chelsea is a Nashville based artist, mother, and entrepreneur. Her new book, The Wiley Canning Company Cookbook was released this past March and features the most beautiful text, recipes, and images. Here, we discuss finding clarity and wholeheartedness, creating a mindset of abundance, and the inspiration behind her new book.
Hello! First off, tell us a little about yourself and what you've been up to lately.
The current chapter of my life has been one of true creative and physical alignment, and I feel very inspired to continue living in this way. My first book, The Wiley Canning Company Cookbook, was published on Tuesday, March 28, a day that now represents a transformation-filled feat of which I am so deeply proud. In the weeks leading up to Pub Day, I began training for my third marathon, and the simultaneous creative and physical focus has allowed me to feel very clear and wholehearted. This clarity and wholeheartedness, I believe, has made me a far more present wife, mother, friend, and sister. Every human likely has a unique idea of what it means to respect oneself, and one lesson I've learned very recently is that my idea of self-respect is practicing an equal commitment to my creative mind and physical body. When they feel equal, I am the highest expression of myself. One must not take precedence over the other.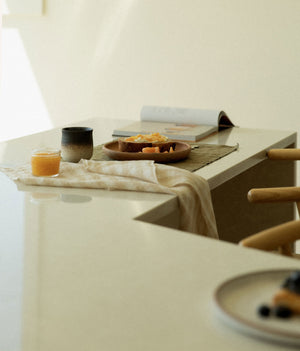 "I do my best to cultivate a mindset of abundance by identifying the day's three "Most Important Things.'"
What is your morning ritual?
My ritual, right now, is one of mindset. When I begin my day, I do my best to cultivate a mindset of abundance by identifying the day's three "Most Important Things", or three things I most want to complete. I no longer believe in lengthy to-do lists for a single day. Almost always, I am able to complete three things, and I find myself feeling abundant at the end of each day. Before this shift, I found myself feeling unproductive or as if I could have and should have done so much more. Had I continued operating within this mindset, I wonder, what may I have felt at the end of my year? At the end of my life? I have a deep understanding that, at the end of my life, I want to reflect on my days and think, "My life was one of true abundance," and I now practice this on a daily basis, very practically, as I appreciate accomplishing the three "Most Important Things" of my day each day. Almost always, I do much more than three things, but those items feel like icing on the cake.

Aside from this, when I wake up early to have at least one hour of alone time before my son wakes up, I feel on top of the world. However, I don't rely on this. I do rely on my ability to name three things and commit to them fully. This has been my superpower.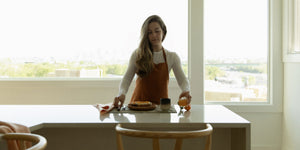 You are the founder and owner of the Wiley Canning Company, can you tell us a little bit about it and how it came to be?
I began Wiley Canning Company with a goal to gather people, conversationally and physically, around a table covered in delicious sustenance. I focus on canned, pickled, and preserved fruits and vegetables and incorporate them into meals. There is power in feeling physically nourished when needing, or wanting, to be emotionally available and attuned.

Wiley Canning Company is named after my maternal grandmother, Grandma Trudy, who first exemplified the value and beauty of home food preservation. Though, she never explicitly said, "This is how you can tomatoes, and this is why it matters." Canning food, rather, was simply integrated into her approach to living, loving, and raising a family. I learned what I did through the process of observation. Witnessing. Being in the same room. There is also power in this. There is power in learning from someone without ever having been taught by someone.

She canned, pickled, and preserved the fruits and vegetables she grew and sourced throughout the spring, summer, and autumn seasons. She then turned those canned, pickled, and preserved fruits and vegetables into delicious, nourishing, and comforting dishes. I loved everything about her canned goods: the flavorful way they tasted, the colorful way they looked, and the sweet, wholesome way they completed her kitchen.

Canning, pickling, and preserving now bring great meaning to my life; it is one thing I cherish about my family history and wish to carry forward through Wiley Canning Company.
In addition to running Wiley Canning Company, you are also a photographer and a writer. Were you always interested in these areas? How did you get started on this path?
Writing and creating photographs have, for years, been two practices I have needed to feel myself. I first began in high school. My senior English professor assigned us one essay per week. This instilled a lifelong habit of writing frequently. My grandfather also passed away when I was in high school, and my dad inherited his camera, one he let me use right away. This, again, immediately ignited a curiosity in photography. What I love so much about Wiley is that it marries all three: home food preservation, writing, and creating photographs. I feel very meant to live in 2023 when we have access to so many camera-inclusive devices, such as iPhones. I don't take this for granted and work hard to see the best sides of this technological era and foster a healthy relationship with it.
"The best way to achieve wholeness is to focus on individual parts. It sounds counterintuitive, but I find this to be true over and over again."
Tell us about your new book, Wiley Canning Company Cookbook. What were some of your favorite aspects of creating a cookbook?
The Wiley Canning Company Cookbook is a guide to home food preservation. My hope is that it not only provides delicious recipes of high efficacy, but that it also encourages others to think about how to honor and carry forward what they cherish about their family history. The Wiley Canning Company Cookbook is also a book of ingredients: Canned Peaches, Pickled Onions, Strawberry Jam, etc. Delicious ingredients lead to delicious meals. I believe this is not only true for a meal, but is also true for a life. The best way to achieve wholeness is to focus on individual parts. It sounds counterintuitive, but I find this to be true over and over again.

If I want my body to feel whole, I focus on drinking one glass of water, and then a single night of sound sleep, and then a delicious cup of coffee with just the right amount of creamer and froth, and then…

If I want to create a 252-page cookbook, I focus on writing one paragraph, and then my next trip to the farmers' market, and then my next three-to-four hour window to test a recipe for the first time, and then…

If I want to run a race, I focus on printing out a training plan, and then creating an inspiring playlist, and then setting my running clothes out for the next morning, and then…

If we want to experience a life that is whole, we must focus on its ingredients: a single conversation with a close friend, an intentional "hello" when our spouse gets home, a meal together with our toddler, and…

Single parts deserve our time and praise. Wholeness is the result of prioritizing and honoring the individual ingredients of our lives. My cookbook aims to exemplify this belief through food.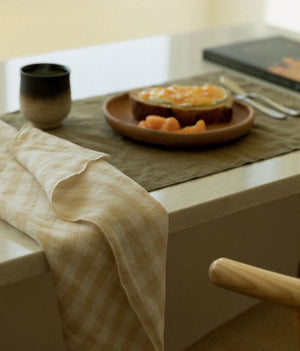 What about your work continues to inspire you?
A future version of myself who feels whole, abundant, and at peace with her life inspires me most.
"Wholeness is the result of prioritizing and honoring the individual ingredients of our lives. My cookbook aims to exemplify this belief through food."
You have an adorable son, what are some of your favorite parts of being a mother? The most surprising parts?
Thank you. I've learned that women and birthing persons are a different breed. The United States may be founded upon masculine ideals, but the power of our country, the innate power of humanity, is rooted in Mother. The power of our world is soaked in the blood, sweat, and tears of Mother before it is soaked in the blood, sweat, and tears of our soldiers. Our understanding of life is inextricable from our understanding of Mother.

This belief is my favorite thing about motherhood. As far as surprises go, almost everything about motherhood surprises me. It is the best, scariest, and most surprising adventure I've ever pursued. When I was newly postpartum, I was surprised by how something I wanted so desperately, to be a mother, could feel so difficult. Yesterday, I was completely surprised when my son said, "My bath bomb dissolved." I thought, "Where did you learn the word 'dissolved'? How dare you grow up this quickly."
How do you balance being an entrepreneur, an artist, and a mother? What do you do to stay grounded?
I run (or move my physical body in some way) to stay grounded and with myself as I carry and navigate the joy and weight of my various identities.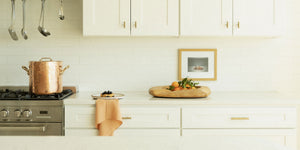 Can you tell us a little bit about your home? What is your approach to decorating?
My mantra for building a restorative home is "Quality > quantity". I take my time searching for pieces that feel unique and well crafted. I prefer to have fewer items in my house to allow for more open space and flow. I also seek out pieces that will play beautifully with sunlight, such as a glass table or fun-shaped lampshade that will create an interesting shadow.
What are you reading/watching/listening to these days?
I'm currently reading Lucy by the Sea by Elizabeth Strout. After I read her interview with Joanna Goddard, I felt a desire to read everything she has ever written. She also came highly recommended by a close friend, Elise Joseph.
Fill in the blanks:
The coolest place I've ever woken up in is: The top floor of my sunlight-filled home, next to a beautiful baby boy I grew myself, close to a husband I love and respect, in a bed crafted by a talented friend, in pajamas given to me by my mother on Christmas Eve. I believe an ordinary, day-to-day life you love, one that allows you to recognize the rich connectedness and complexity of your life, is the coolest outcome of all.

The best cup of coffee/tea is at: my home and available to me as soon as I wake up. Next would be The Atlas at Steadfast Coffee in Nashville. *Chef's kiss.*

A thing about mornings I'll never get sick of is: The fact that no matter how exciting or difficult the day before was, the sun always rises and reminds us of our humble place in the world.