Waking Up With: Elise Joseph
Elise Joseph is an LA-based creative consultant and owner of the online vintage shop Duende. Her keen eye for visuals and vintage treasures is reflected in her exceptional work and her beautiful new home. Here, we discuss her move from Nashville to LA, her career path to creative consulting, and finding inspiration in the everyday.
Hello! First off, tell us a little about yourself and what you've been up to lately.
My husband and I moved across the country (from Nashville to LA) last fall, and have been happily adjusting to our new lives in California! For work, I am a creative consultant and work with a variety of brands on content development, marketing ideas, social media, brand vision and strategy.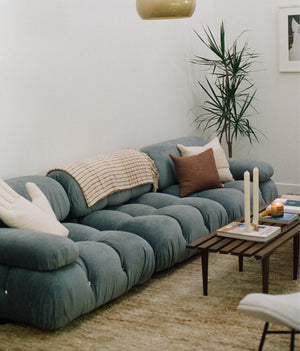 "At the root of what I do is a desire for finding, creating and sharing beauty."
What is your morning ritual?
I'm a night owl and love a slow morning, and usually get out of bed around 8:00 am. My husband Dan and I take our dog for a walk around the neighborhood, make a simple breakfast (usually fruit and homemade granola) and talk about the day ahead over coffee, before getting into our work and creative projects.
You recently moved from Nashville to LA, tell us a little about the decision to move and how the transition has been.
Like many others during the pandemic, we made the decision to uproot and start a new adventure together. LA living has always been a part of our conversations as we both have spent a lot of time here for work over the years. We are fortunate to be self-employed (Dan is an artist, songwriter and producer), and it all just finally clicked into place. We rented out our Nashville home furnished, packed up what we could fit in the car and moved sight unseen (our friend and Morrow co-founder Steph actually helped us find our new spot!). While starting over can be overwhelming and definitely comes with its challenges, thankfully it has been a really smooth and welcomed transition. I've loved making our place feel like home (mostly starting from scratch — it's still very much a work in progress), exploring our Highland Park neighborhood and reconnecting with old friends here.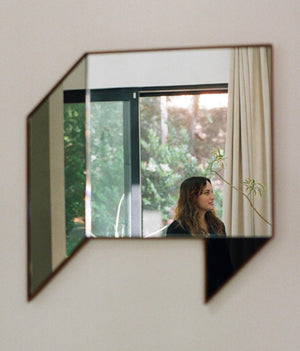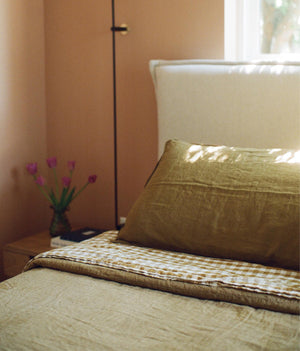 What are some of your favorite things about being in LA so far?
The obvious answer is the weather! I underestimated how much the sunshine can improve my mood and spirit for the better.It's so amazing to be able to spend so much time outdoors and in nature — I love discovering new plants on our daily walks, and have potted my own lemon tree which brings me so much joy. There's always something new to explore and I'm looking forward to all the road trips.
You are a content creator and creative consultant, how did you get started on this path?
I've been creating content since the early days of social media, and have had the pleasure of working with small brands and emerging designers, as well as larger corporations. I've worn a lot of different hats over the years (as a blogger, stylist, consultant and shop owner), but at the root of what I do is a desire for finding, creating and sharing beauty.
What about your work continues to inspire you?
I'm so grateful for the flexibility that being a freelancer allows, and love that no day is the same. On Monday I may be shooting and styling photos for a brand, the next day in a brainstorming meeting with a client, working on a marketing plan or sourcing vintage items for Duende, my creative side project.
"Like many others during the pandemic, we made the decision to uproot and start a new adventure together."
Can you tell us a little about your home? What is your approach to decorating?
Coming from a charming old 1950s house in Tennessee (that we spent years renovating), we love that everything here is new and we don't have to worry about what's behind the walls, or spend every weekend fixing something up. We are renting a newly built home which is a really nice blank slate, and our main goal is to bring in lots of warmth and texture. The modern vibe is clean, but can sometimes feel a little cold and sterile (or like a big white box), so we wanted to cozy it up with some pops of color, plants, artwork and rounded edges. I used to think my design was minimal, but over the years I've grown to love collecting and acquiring pieces that tell a story, mixing new with old and high with low.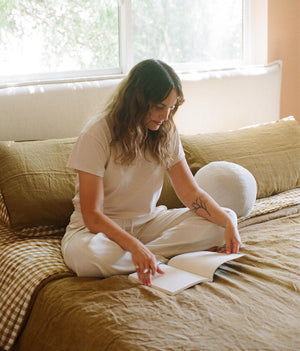 Tell us about the last dream you remember:
I had a dream recently that my friend dyed my hair bright orange, and it was definitely not a good look for me haha!
Fill in the blanks:  
The coolest place I've ever woken up in is: Hotel Esencia in Quintana Roo, Mexico on our honeymoon.
The best cup of coffee/tea (in my neighborhood) is at: Kumquat! They also have amazing breakfast burritos.
A thing about mornings I'll never get sick of is: Being able to open our sliding glass doors and enjoy the weather every single day in LA. I grew up in Nashville with hot humid summers and cold, dark winters, so I never want to take this weather for granted!