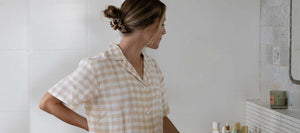 Designer Series: Abbie Naber | A. Naber Design
Abbie is the San Diego based interior designer and creator of a. Naber Design. Her unique style feels fresh, artful, layered, and liveable. Here, we discuss what led her to interiors, what keeps her inspired, her favorite project to date, and key tips for creating a bedroom escape.
Hello! First off, tell us a little about yourself and what you've been up to lately.
Hi- I'm Abbie Naber. Originally from Seattle, I've been calling North County San Diego my home now for 20 years. We live in a small beach community, Cardiff-by-the Sea, just north of San Diego. First and foremost, I'm a mother of two and also the Principal and owner of a Naber Design, a boutique interior design firm. My days typically consist of toggling between mom responsibilities and creating artfully layered spaces for my clients in the San Diego area. Work/ life balance is important to me, and I try and carve out time on the daily for hikes, meditation and my pilates practice. I have a passion for design, a strong love for art of many forms, and a curious mind that enjoys diving into unrelated design topics such a wellness and health.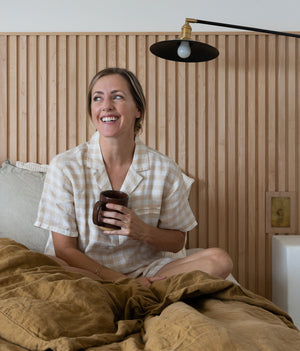 "I enjoy creating spaces that have their own song and are elevated, but at the same time, are approachable and are conducive to families."
Tell us about your path leading up to starting your interior design firm, A. Naber Design. What first drew you to interior design?
I am self-taught in that my own home renovation back in 2015 was the catalyst for my career. Initially, I was on the path to become a fashion designer. With a degree in Interdisciplinary Visual Arts and an additional Professional Designation Degree in Fashion Design from FIDM, I was sure this was my path. But after a short stint in the industry, I realized that fashion was not for me. My core education offered some fundamentals such as textiles and color theory, but I truly built my career from the ground up with learning on the field being a crucial part of my development. I realized after renovating our home that I was hooked on interiors. After a few publications picked our project up, the client inquiries started to trickle in. Things snowballed from there.
Where do you go for inspiration when starting a new design project?
I wouldn't say I have a linear approach to beginning a project. Sometimes, it can be a photo from my travel archives, or a textile that I stumble across. I like to have a couple of concrete concepts that I design outward from. Often times, my client has presented preliminary imagery and I'm able to further develop concepts from those images. Other times, I have free reign and start with a tile that inspires, or a color combination that leaves an impression. Although my design process tends to be pretty linear, I would say the beginning of a project is a bit looser and leaves room for whatever might present itself.
Where do you like to begin with an interior design project?
I start a project with what I call Broad Concept Imagery. It is not the nitty gritty minor details, but more of a collection of images that encompass a feel or mood. At this point in the process, we don't focus on the micro-moments of an image but instead a macro/drone viewpoint. If you were to lay these 20 or so images out, there would be continuity and a great launching off point for further design development.
"In my opinion, bedroom design should be centered around creating the best sleep environment possible. I like the bedroom to be an escape at the end of a long day."
Do you have any favorite past projects? Are there any specific details that really stood out to you?
I recently completed my most favorite project to date. I wish I could share the images but I cannot quite yet! I feel that overall, this project is most reflective of my own personal style. The project is modern, but in a casual-Caliornia style way. While there are a lot of neutral moments, there are elements of surprise with saturated hues, colorful tiles, and patterns sprinkled throughout. The style is a bit of a blend with some Scandinvian design elements and some retro modern influence predominantly seen in the furniture selections. Overall, the clients were extremely trusting and allowed me to create the overall vision. Of course they made selections and had opinions, but they really tried hard to stay in their lane and trust the process.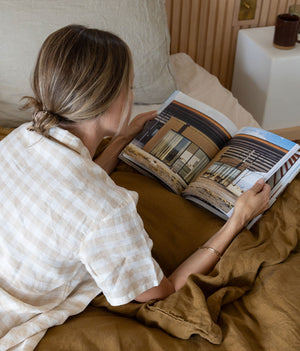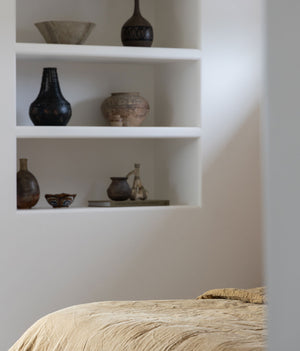 Do you have any tips for people who want to refresh their space but don't necessarily have the option to work with an interior designer?
Not everyone has the budget or means to completely renovate their home. There are so many ways to refresh a space that can be cost effective. Paint can be transformative. I'm a fan of applying treatment to a wall like wallpaper, or a textured speciality finish like Lime wash or Roman Clay. Both of these finishes can be done by the homeowner with a bit of research. Take time to shop for the right pieces for your space so that you are slowly investing in quality goods. If you enjoy the hunt through touch and feel, spend time scouring your local flea markets for inspiration. If you're more of an online shopping, try Facebook Marketplace. Slowly build an art collection that will grow with you over the years. Art doesn't have to be expensive. My collection is comprised of so many different media- from our travel photo gallery wall to local favorite artists to my daughter's art. When you take the time to invest and collect, items have more purpose and are less wasteful and disposable.
How would you describe your personal interior design style?
I would say that I am a true style mutt. I enjoy elements of Scandinavian design, Australian design, and Mid Century design. I gravitate towards spaces that layer pattern and are "art-forward." Living in Southern California, I believe I subconsciously gravitate towards a casual, liveable, indoor-outdoor type of space. I enjoy creating spaces that have their own song and are elevated, but at the same time, are approachable and are conducive to families.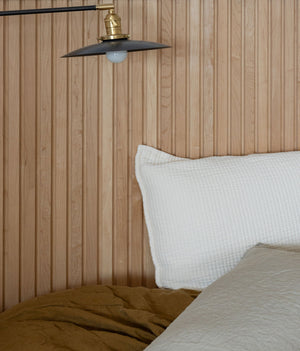 What would you say are the key elements of designing a bedroom? Do you have any tips for styling a bed?
In my opinion, bedroom design should be centered around creating the best sleep environment possible. I like the bedroom to be an escape at the end of a long day. I focus on quality window treatments to darken the room for sleeping. Creating a color palette with soothing tones is key too. Clutter is my pet-peeve in a bedroom. I like drawers to conceal as much clutter as possible. If budget allows, I love an integrated headboard/nightstand combo. Other key items to please the senses include linen bedding (always!), a high-pile natural fiber rug underfoot, and clean ingredient candles or aromatherapy. In general, I am not a fan of using canned lighting, so dimly lit sconces are great for ambient lighting at the end of the day.
A tip for styling a bed would be to not try to make it so perfect! Because I almost always use linen bedding, the fabric lends itself to more of a casual, lived in look. I like a bed that is made, but relaxed at the same time. And don't over do it on the throw pillows. They're just going to end up on the floor!!!